Por qué educación artística, por qué AMDA.

Gracias a la materia de educación artística fue que yo encontré mi vocación por la música y la enseñanza, camino que me llevó hasta un doctorado en política y administración cultural. Hoy más que nunca, estoy convencida del poder que tienen las experiencias artísticas fuera y dentro del aula, y no hay nada que quiera más que permitirle a cada niño y joven Mexicano acceder a una educación artística íntegra y holística en cualquier institución de cualquier región del país.
No nos bastan reformas educativas, no nos bastan libros nuevos, no nos bastan nuevos mandos.
Regenerar al país comienza en el aula, y es en la materia de las artes, con maestros preparados, confiados, y apasionados, que lograremos fortalecer el pensamiento crítico y creativo de nuestros alumnos.
Las artes nos invitan a soñar, a equivocarnos, a recalcular; son un espacio para
experimentar, para crear desde cero, para corregir una y otra vez. La clase de artes no puede ser menos que eso.
El maestro de artes merece ser reconocido ante nuestro sistema educativo como
el docente que es, para así permitirle capacitarse y superarse cuantas veces lo quiera y lo necesite.
Me identifico por completo con los objetivos de la AMDA y me entusiasma formar parte de este equipo, no es por mí, no es por la asociación, no es por el arte…es por México, por los maestros, por nuestros niños.
Andrea Luque Káram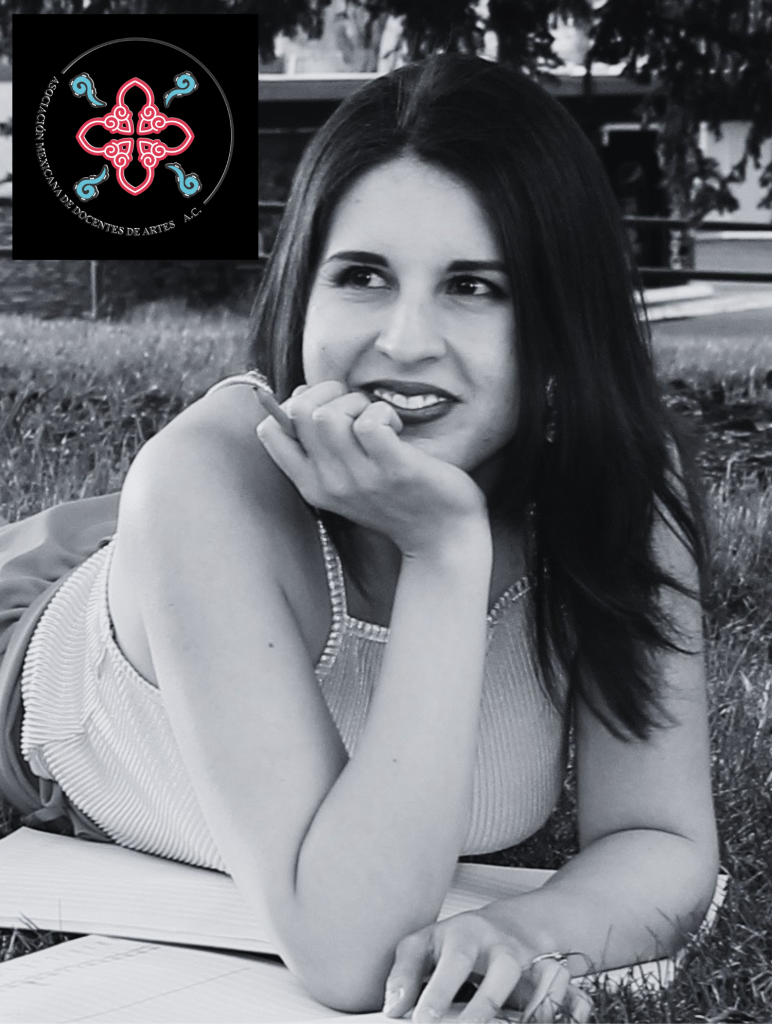 Historia de vida
EDUCATION Ph.D. | Arts Administration, Education And Policy
The Ohio State University, Columbus, Ohio
(in progress)
M.M. | Music Composition 05/2019 Northern Arizona University, Flagstaff, Arizona
Bachelor of Arts | Music 12/2016 Northern Arizona University, Flagstaff, Arizona
Minor in Arts and Cultural Management
Primary instrument: piano
Secondary instrument: flute
Preparatory Degree | Music 08/2012 Conservatorio De Las Rosas, Morelia, Michoacán 
WORK HISTORY GRADUATE TEACHING ASSISTANT 08/2020 to CURRENT The Ohio State University | Columbus, Ohio
Primary instructor of ARTEDUC 1600: Art and Music since 1945, supervised by
Dr. Clayton Funk.
CLASS PIANO INSTRUCTOR 08/2017 to 05/2019 Northern Arizona University | Flagstaff, Arizona
Primary instructor in two sections of undergraduate class piano, supervised by
Dr. Michelle Wachter.
MUSIC THEORY GRADER AND ASSISTANT 08/2017 to 05/2019 Northern Arizona University | Flagstaff, Arizona
Tutored undergraduate students in all levels of music theory and helped
with grading. Supervised by Dr. Stephen Brown.
FLUTIST AND PIANIST 08/2011 to 05/2019 Freelance
Piano accompanist to instrumentalists and singers.
Flutist in popular ensembles in Mexico.
ASSISTANT DIRECTOR, ENSEMBLE FLAGEOLET 01/2016 to 12/2018 Bruce Reiprich | Flagstaff, Arizona
Built and managed this contemporary ensemble's website and its facebook page.
Help fundraise for its bi-yearly events.
Designed flyers and programs.
Helped arrange artist residencies, masterclasses, rehearsals
Raised awareness and engaged new audiences for new music.
ORGANIZER OF MUSIC RECITALS 05/2012 to 06/2018 Freelance | Sonora
Coordinated programming, rentals, rehearsals, and ticketing for diverse musical concerts.
RESEARCH ASSISTANCE 11/2016 to 07/2017 Elena SV Flys | Flagstaff, Arizona
This was an Audience Reception Research Project and was done using thermal photography.
Coordinated with research and development team to manage and organize data.
WEBSITE RESEARCHER AND DESIGN ASSISTANT 05/2016 to 08/2016 Winslow Art Museum | Flagstaff, Arizona
Helped with the museum's page design by blending arrangement, style and aesthetic elements to meet the standards of other national museums I researched.
SOCIAL MEDIA MANAGER 05/2016 to 08/2016 Eric O'Connell Photography | Flagstaff, Arizona
Increased customer engagement through social media.
Monitored online presence of the photographer's summer projects.
FOUNDER AND DIRECTOR 06/2014 to 08/2016 MusiCamp Obregón | Ciudad Obregón, Sonora, México
PR, designer, social media manager, instructor, and coordinator. Recruited, hired and trained all staff, providing direct supervision, ongoing staff development and continuing education to employees.
PR, SOCIAL MEDIA, AND DESIGN INTERN 09/2015 to 12/2015 NAU Lyric Theater | Flagstaff, Arizona